Lauren (Practice Manager-CVPM)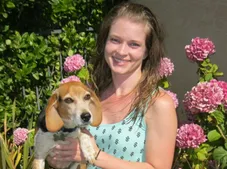 Lauren began working as a veterinary assistant while attending college. In 2009 Lauren graduated from Cal Poly Pomona with a Bachelor's degree in Zoology. She moved to the Antelope Valley and started working at Lancaster Pet Clinic in January 2012. When Lauren isn't working at Lancaster Pet Clinic she enjoys traveling, camping, hiking, and spending time with her family, friends, and her Beagle, Wallace.
Ashley (Office Manager)
Ashley has worked at Lancaster Pet Clinic since September 2011, however she has worked with Dr. Greg and Dr. Leigh Gallegos since 2004. She has primarily worked in small animal hospitals and also has 2 years of experience with a large animal practice. Ashley has an AA in Business Management from AVC and an AS in Veterinary Technology from CVC in Texas. She is a Certified Veterinary Assistant and plans on testing to become a Registered Veterinary Technician in the future. Ashley loves to be at the lake with her family and friends.
Sammy (Receptionist)
Sammy is originally from Glendale, California and moved to Lancaster 2 years ago. She joined the Lancaster Pet Clinic team in December of 2018 and enjoys working with both animals and people. In her spare time, she enjoys cooking, gardening, arts and crafts and making people laugh. She also enjoys spending weekends with her family at home.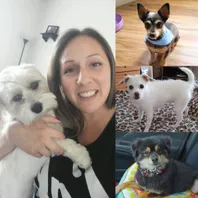 Vanessa (Receptionist)
Vanessa grew up in Santa Clarita and moved to Lancaster 3 years ago. She has always had a love for animals, and knew that she wanted to pursue a career in the animal field since she was little. Vanessa has been working in the animal field for about 13 years and hopes to one day start her own rescue for senior animals, so they don't have to spend their last days in a shelter. When shes not working, Vanessa enjoys spending time with her fur babies and family.
Andrea (Registered Veterinary Technician)
Andrea joined Lancaster Pet Clinic in 2013 as a kennel assistant. She graduated from Pierce College in 2022 and has obtained her Registered Veterinary Technician License. Andrea's furry family includes her cats Athena, Apollo, and Lucius, her German shepherd, Deebo, and her Fenchies, Bruce and Autumn. and loves how everyday is different in the veterinary field.
Laura (Veterinary Assistant)
Laura has always had a love for animals. After high school she began taking classes to become a teacher, then worked as a Pre-school teacher shortly after. Laura taught for several years but then decided she wanted to work with animals. Laura has worked as a veterinary assistant since 2007 and became a Certified Veterinary Assistant in 2008. She began working at Lancaster Pet Clinic in January 2012. Laura loves helping pets and wants to continue her education in the veterinary field; she is especially interested in Ultrasonography for animals. Laura enjoys spending time with her friends and family; both human and furry.
Jessica (Veterinary Assistant)
Jessica joined Lancaster Pet Clinic in July 2021. She is a UC Davis graduate majoring in Animal Science, focusing on small and captive animals. She has lived in Palmdale her whole life, loves to hike, read and journal. She has 4 dogs, Bubba, Cookie, Valentina and Chiqis and her family raises rabbits and chickens.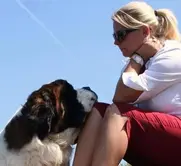 Erin (Veterinary Assistant)

Erin came to Lancaster Pet Clinic in August of 2021, from Central California. She is originally from Lancaster and moved back to be closer to family. She comes to us with 10 years small animal experience and is currently in school pursuing her RVT license. In Erin's free time she loves being outdoors, camping, riding dirt bikes, spending time with family and crafting.
Ryan (Veterinary Assistant)
Bio coming soon.....
Frances (Veterinary Assistant)
Bio coming soon.....
Our Resident FurBaby

George