Lancaster Pet Clinic offers laser therapy to help heal your pet. Laser therapy alleviates pain and inflammation, reduces swelling, stimulates nerve regeneration and cells involved in tissue repair.
Laser therapy helps a wide range of conditions including:
Acute Conditions
Wounds
Allergies
Infections
Cuts/ Bites
Inflammations
Tooth Extraction Pain Relief
Sprains, Strains & Fractures
Post-Surgical Healing / Pain Relief
Chronic Conditions
Degenerative Joint Disease
Inflammatory Bowel Disease
Periodontal Disease
Lick Granulomas
Geriatric Care
Hip Dysplasia
Feline Acne
Tendonitis
Arthritis
Call us today at 661-949-9389 with any questions or to schedule an appointment.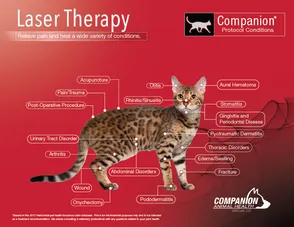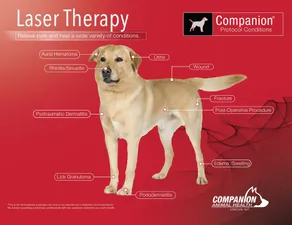 All information is courtesy of LiteCure, LLC